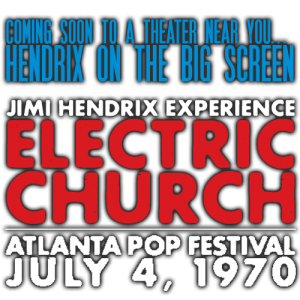 ABRAMORAMA PARTNERS WITH EXPERIENCE HENDRIX L.L.C. & SONY/LEGACY RECORDINGS TO RELEASE JIMI HENDRIX: ELECTRIC CHURCH PLAYING IN SELECT THEATERS AROUND THE WORLD STARTING JANUARY 31ST
Captured in front of his largest U.S. audience, the documentary features Hendrix at the historic July 4, 1970 performance at the 'Southern Woodstock'
New York, NY / January 22, 2019: Abramorama announced today a partnership with Experience Hendrix L.L.C. and Sony Legacy Recordings to release Jimi Hendrix: Electric Church in select theaters around the world. The film opens at the ArcLight Hollywood theater on January 31st with a special Q&A with director John McDermott, legendary record producer and engineer Eddie Kramer (best known for not only collaborating with Hendrix but also with The Beatles, David Bowie, Eric Clapton, Led Zeppelin, The Rolling Stones and others) and Jimi's sister and Experience Hendrix CEO Janie Hendrix. The much-lauded documentary, which originally aired on Showtime, tells the story of the Jimi Hendrix Experience's involvement as the headliner of the Second Atlanta International Pop Festival, then hailed as the 'Southern Woodstock.'
Richard Abramowitz, CEO of Abrmorama stated, "We're honored to add another Jimi Hendrix movie to the exalted list of music films we've released. Jimi certainly belongs in the pantheon with The Beatles, Bob Dylan, Neil Young, Pearl Jam, Tony Bennett and the many others we've been privileged to handle around the world."
Janie Hendrix commented on the Electric Church partnership with Abramorama, "It's thrilling on so many levels. Seeing Jimi re-introduced around the world through this platform is something of a rebirth." She added, "The moments captured in the film are timeless. Jimi's music and his showmanship are born again for new generations in his 'Electric Church.'  It's very exciting."
Unquestionably one of the most exciting rock musicians of his generation, Jimi Hendrix captivated the world with his highly stylized approach to blues guitar. Electric Church features an interview with Paul McCartney who freely admits to worshipping Hendrix, commenting, "We all played guitar. We all knew a bit. But he seemed to know more than us."  The film features interviews with Hendrix's Experience band mates Billy Cox and the late Mitch Mitchell as well as Steve Winwood, Rich Robinson, Kirk Hammett, Derek Trucks, Susan Tedeschi, festival organizer Alex Cooley and many others.
The film contains breathtaking, color 16mm footage of Jimi Hendrix's July 4, 1970 appearance, a mere ten weeks before his untimely passing. Atlanta International Pop Festival footage in Electric Church was shot by Steve Rash, later known for directing the Hollywood films The Buddy Holly Story and Can't Buy Me Love. Standout performances from the film include the Hendrix classics "Hey Joe," "Voodoo Child (Slight Return)," "Purple Haze," as well as confident, compelling versions of "Straight Ahead," "Freedom" and "Room Full Of Mirrors."  Hendrix aficianados and fans of rock's classic '60s – '70s era will not want to miss this Electric Church.
About Experience Hendrix L.L.C.
Founded by James 'Al' Hendrix, Jimi's father, in 1995, Experience Hendrix, has been managed since its inception by the family members handpicked by Al during his tenure as Chairman. It is the official family company charged with managing the music, name, image and likeness of Jimi Hendrix. As a part of their daily operations, Experience Hendrix and Authentic Hendrix oversee Jimi's timeless legacy on a worldwide basis. Visit www.jimihendrix.com
About Legacy Recordings
Legacy Recordings, the catalog division of Sony Music Entertainment, is home to the world's foremost library of historically significant commercial recordings, a peerless collection of works by the most important musical artists of the 19th, 20th and 21st centuries.  Across a variety of platforms, the label offers contemporary music fans access to thousands of meticulously restored and remastered archival titles representing virtually every musical genre including popular, rock, jazz, blues, R&B, folk, country, gospel, Broadway musicals, movie soundtracks, rap/hip-hop, world music, classical, comedy and more. www.legacyrecordings.com
About Abramorama
Abramorama is the preeminent global rights management partner for music films today and is recognized for the consistent high quality of its work on award winning feature films. An innovator in the focused, personalized form of film distribution and event cinema, Abramorama provides invaluable alternatives to filmmakers and content owners. An industry leader in marketing, promotion, and global distribution, Abramorama continues to trail-blaze exciting new pathways for filmmakers to find their audience.
Over the course of more than 15 years, Abramorama has successfully distributed and marketed hundreds of films, including Ron Howard's Grammy Award®-winning The Beatles: Eight Days A Week – The Touring Years; David Leland's Concert for George; Danny Clinch and Pearl Jam's Let's Play Two; Paul Dugdale and Myles Desenberg's  Above & Beyond Acoustic – Giving Up The Day Job; Amir Bar-Lev's Long Strange Trip – The Untold Story of the Grateful Dead; Corbett Redford and Green Day's Turn It Around: The Story of East Bay Punk, John Scheinfeld's Chasing Trane – The John Coltrane Documentary; Sam Pollard's Two Trains Runnin'; Brett Bern's BANG! The Bert Berns Story; Brett Morgen and National Geographic's seminal Jane; Charles Ferguson's Time To Choose; Asif Kapadia's Senna; Neil Young's Greendale; Cameron Crowe's Pearl Jam Twenty; Sacha Gervasi's Anvil! The Story of Anvil; Banksy's Academy Award® nominated Exit Through the Gift Shop; the surprise indie hit Awake: The Life of Yogananda; Laurie Anderson's astonishing New York Times critics' pick, Heart of a Dog, Showtime's National Board of Review Winner Listen to Me Marlon and Draft House Releasing's 2016 Documentary Academy Award®-nominee and IDA Best Documentary Winner The Look of Silence. Abramorama is a founding partner of The Seventh Art Stand program, an act of cinematic solidarity against Islamophobia, that ran in more than 50 theaters across the United States in May of 2017. Abramorama recently launched its music centric film fund focused on the global release of iconic music documentaries. For more information visit www.abramorama.com
Jimi Hendrix: Electric Church presents the legendary guitarist in full flight at the 1970 Atlanta Pop Festival before the largest US audience of his career. This critically acclaimed film combined color, 16mm multi-camera footage of Hendrix's unforgettable July 4, 1970 concert in its original performance sequence together with a new documentary that traces his journey to the festival amidst the dark shadow of civil rights unrest, the unrelenting toll of the Vietnam War and a burgeoning festival culture that drew together young people across the country who were inspired by the Woodstock festival.